When you use a browser it saves some information from websites in its cache and cookies. Clearing them fixes certain problems, like loading or formatting issues on websites.
To clear your cache and recent browsing history please select the browser you are using and follow the attached steps below:
Most browsers allow to do a quick clearing of the cache files by pressing on your keyboard CTRL, Shift and Delete all at the same time for Windows PC. CMD, Shift, and Delete for Mac.
Internet Explorer: Select Tools -> Delete Browsing History -> select the follow "Temporary Internet files and Cookies and website date", uncheck all others -> Delete -> OK. It is recommended that you close and reopen the browser to finish the process. the history check boxes)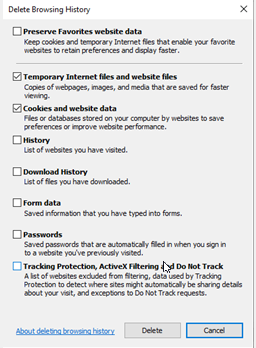 Mozilla Firefox: History (Top left of the screen)-> Clear Recent History -> "Time range to clear" Everything -> check Cache and Cookies, uncheck all others -> Clear Now.
Google Chrome: Menu button (looks like 3 dots stacked on top of each other on far right of window) -> History -> History -> Clear browsing data… -> "Time range:" All Time-> check "Cached images and files", "Cookies and other site data" and uncheck all others -> Clear browsing data.
Safari: History -> Clear History… -> Clear. Quit and reopen Safari to complete the process.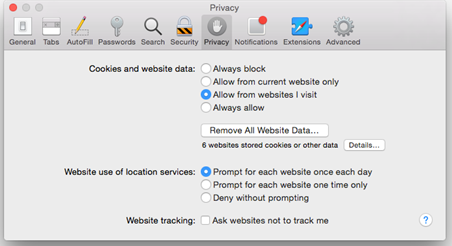 Microsoft Edge: Menu Button (looks like 3 horizontal dots) -> Settings -> Under "Clear browsing data" click "Choose what to clear" -> Check "Cookies and saved website data" and "Cached data and files" -> Click Clear.
If attempting to clear cache and cookies has not resolved the problem, it is recommended to use a different web browser.