Remove a Service Contact:
1. Click on the orange "Actions" button at the top right of the screen.
2. Click on "File Into An Existing Case".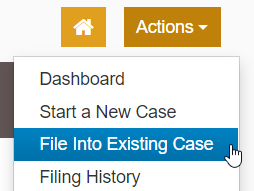 3. Select the location your case is in.
4. Enter your case number.
5. Click "Search".
6. Click on the black "Actions" button.
7. Click on "View Service Contacts".
8. Find the service contact you want to remove.
9. Click on the corresponding black "Actions" button and click on "Remove Contact".
Once you remove the service contact you can click close and they have been removed from the case.
Note: If there is no Actions button to the right of the contact, this means you did not add the contact and you will be unable to remove it. In this situation, you will need to complete the template below and send it into support to have the contact removed.
Click here for the Service Contact Removal Form if you are not able to remove your service contact.