This article is a general summary of the eFile website. If you would like to find more detailed help articles, click here.
Filer Dashboard
My Filing Activity
Pending - Envelopes that have been submitted or processing.
Accepted - Envelopes that have been accepted by the court and are filed.
Returned - Envelopes that have been returned from the court to be corrected.
Drafts - Envelopes that have not been submitted yet.
Served - Envelopes that have Service Only filings that have been delivered.
View All - takes you to your entire filing history showing all statuses.
New Filing
Start a New Case - Use this if you do not have a case and are filing an initiating document for the first time.
File into Existing Case - Use this if you have a case number to conduct a search and then file into that case number.
Use a Template - Templates allow you to quickly file into a case or create a case from a template that you have previously created. Templates can be created for future case initiations and subsequent case filings to help speed up the filing process.
Orange Actions button
This is the main navigation menu which can take you to different pages on the website.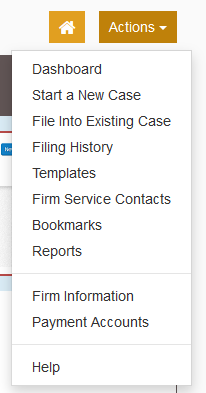 User Icon - (little person at the top right)
Shows the email that you are signed in under.
Manage Security - this is where you can change your password
Manage Notifications - choose what notifications you want to receive.
My Information - (Individual accounts only feature) this is where you can change your email.
Below is an general guide of the eFiling Process. For more detailed help articles such as starting a new case or filing into an existing case, click here.
Look for boxes or fields outlined in RED, this means they are required.
Once all required fields are satisfied, all the red boxes will disappear and a BLUE Save Changes will activate on the right side of the screen.
Case Information Section

Location: The county, parish or borough that the case will reside.
Category: The general type of case you are filing. Some examples are Civil, Family, and Probate.
After you pick a Category, you will see a list of Case Types within that Category.
Case Type: The specific type of case you are filing. If you can't find the case type you need,
change the Category (or Location) to see other available case types. If you don't know your case
type, please contact the court.



Party Information
You must enter the name of each party. If the party is a business or agency, check the box
"Party is a Business/Agency." All other fields are optional. After you fill in the required fields for
a party, click the Save Changes button. You will then be asked for the next required party. To
add more parties, click the Add Another Party button near the top right of the Party
Information section.
Filings Section
What is a filing type?
There are three types of filings: EFile, EFile and Serve, and Serve.
Click here to learn about the difference between the types.

The filing code identifies the specific type of filing that you are electronically submitting to the court. (Example: motion, memorandum, affidavit, complaint, etc.). Click here for more details about the filing code.
Please Note: If you need advice in selecting a filing code or a list of filing codes, please contact the court that you are filing into.
What is a Filing Description?
The filing description field allows you to describe the lead document that you are filing. If you select a general filing code.
What is the Client Reference Number?
The Client Reference Number is intended to help you associate a filing with your internal records.
For example, this can be the client name, number or purpose of the filing to help you reconcile the filing with your internal records. The Reference Number is often used to help you distinguish between your various e-filings.
Note: The Reference Number does not need to be a number.
What should I put in the Comments to the Court section?
This section can be used to add extra comments to the court reviewer directly. Those comments are typically comments that are not on your documents.
What are Courtesy Copies?
You can enter email addresses in this field (separated by commas) that you want to receive a
copy of your filings if they are accepted by the court clerk. You will automatically get a copy of
your accepted filings at the email address you use for your username. Courtesy Copies are NOT
formal service to other parties and no not provide proper notice.
What are Optional Services?
Some courts (such as Oregon) charge filing fees through the Optional Services field. You must
select the appropriate fee for the type of case and filing you are sending to the court. If you do
not, your filing may be rejected by the court for not paying the required fees.
Most courts use optional services for additional optional fees that you can choose to add on to
your filing. Some examples are service by a sheriff or constable, certified copies, or issuance of citations. If you need to add any optional services, click the Add Optional Services and Fees
button in the bottom right of the Filings section.
Service Contacts
This section is unhidden if you selected EFileAndServe or Serve as the Filing Type (in the above
Filings section). Check the box next to the service contacts you want to serve electronically.
You can add your email to be available for electronic service through the website. Add an email
by clicking the Actions button to the right of the party.
Fees
You must select a Payment Account, even if the cost is $0.00.
Party Responsible for Fees: The party you are filing on behalf of.
Filing Attorney: This is optional. Attorney filers may select from the Firm Attorneys list.
Filer Type: If required, choose the option that matches your role or choose Not Applicable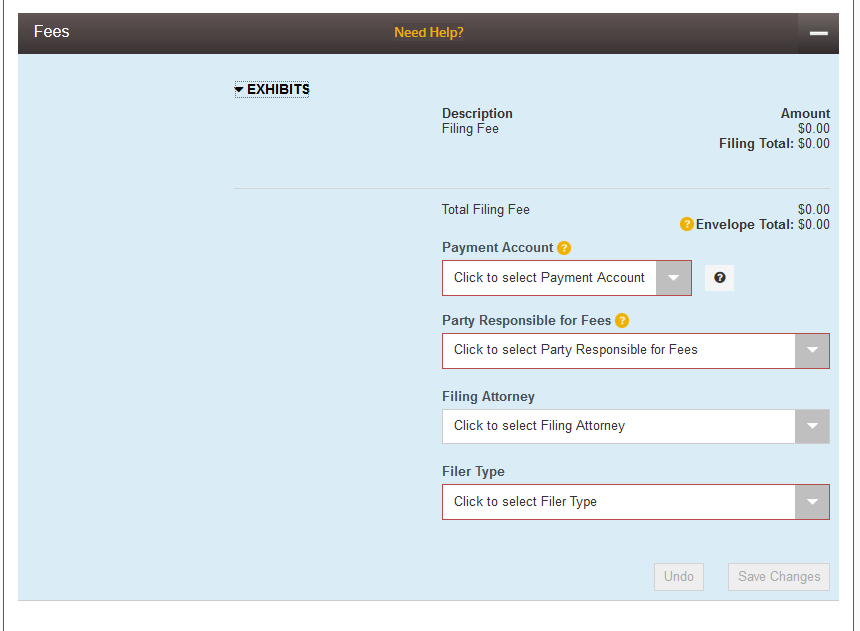 Some courts require a Submission Agreements box to be checked.
If you are e-filing, click on the Summary button at the bottom of the screen to review all of your
selections.

Once you reach the Summary, scroll to the bottom of the screen and click Submit.