The Firm Information page is where the account Firm name, contact number and address can be changed. Solo Practitioners will also use this option to update their contact information.
Once logged in, click the Orange Actions to the top right of the page, and select Firm Information (can also be displayed as Contact Information) on the drop down menu.
Note: If Firm Information does not appear in the drop down menu, this means your account is not the Firm Administrator. Contact your Firm Administrator to make the changes to the account.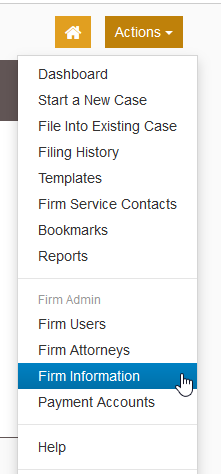 Click Save Changes once the information is updated.