If your document is over the file size limit you will need to compress the file to upload it into the system. There are a few methods for compressing your document(s).
If you have Adobe Acrobat Standard or higher (not Adobe Reader) you can compress the document by opening it in Adobe, clicking 'File' in the top left corner, selecting 'Save As', then 'Reduced Size PDF'. This will prompt you to save the document in a new location and rename it. Once the document has finished saving you will need to check the Document Properties to see what file size it was compressed to.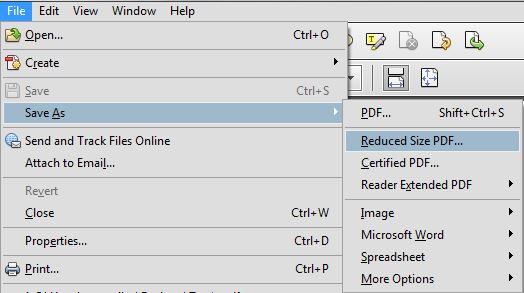 You can print the document out and rescan it, adjusting the scan settings. The ideal resolution for the document is 200 DPI, and it should be scanned in black and white. This will prevent your scanner from picking up too much information and creating too large of a file size.
If you are unable to use Adobe Acrobat you can also use third-party programs such as https://www.ilovepdf.com or https://www.easepdf.com/compress-pdf/ to reduce the size of your document. These sites will have you upload the document you want compressed, compress it, then provide a download for the new compressed document.
Check the document properties to make sure the page size is set to 8.5 x 11. Re-converting the document to a PDF can resolve this issue. The recommended way is to perform a Print to PDF. Click here for instructions on performing a print to PDF.
If the document is still too large after you have compressed the file, you will need to split the document into multiple parts. It is recommended that you contact the court you are filing into to see how they would like it split.