When a filing is rejected or returned, you will receive an email at the email address you used to log in and e-file. The email subject will say "Filing Returned for Envelope Number: (your envelope number) in Case: (your case number) for filing (the name of the filing that is being returned)."
Open the email and read the Returned Comments section of the email (see example below). Click here to learn how to correct a rejected or returned filing.
You can also read why your filing was rejected or returned by logging in to the eFile website.
From the Filer Dashboard, under My Filing Activity, click on the Returned
If you don't see the Filer Dashboard, click the orange

Actions

button in the upper right hand corner, and select Dashboard.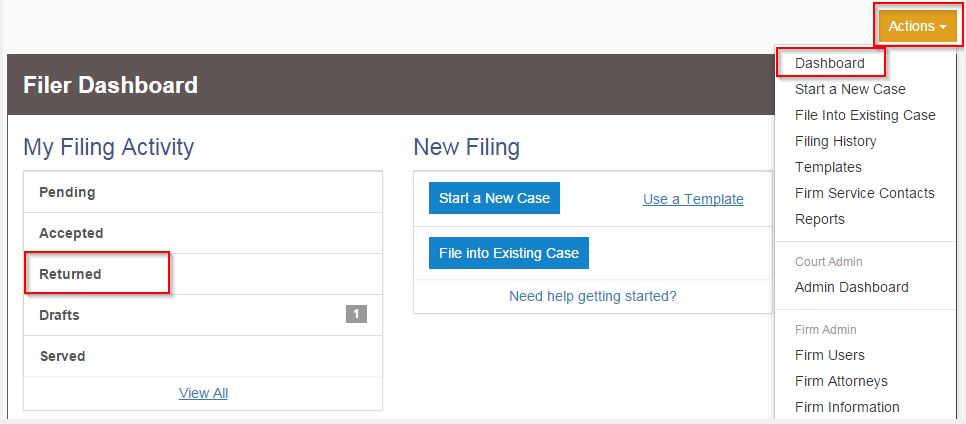 You will see a list of your returned filings.
Locate the filing that you want to review.
Click the black Actions button on the right hand side of the envelope.
In the drop down menu, select View Envelope Details.
You will see the details of the envelope you e-filed.
Scroll down to the Fillings section. Click the Filing Code for the filing that was returned to see more details (the item will highlight across the screen).
Scroll down to view the Rejection Information. You will see the Rejection Reason and Comment provided by the reviewing Court Clerk. Sometimes the initials of the Court Clerk who rejected the filing are also listed. Use this information to help you resubmit with the necessary changes or contact the Clerk if you need additional information.