Yes! Please follow the steps below:
1.) Click on Actions in the upper righthand corner. Select Reports.
2.) Click Run Report located to the right of the report. You can either run a Financial Reconciliation Report or a Filings Report.

3.) Select your Parameters.
Filings Submitted By: My Filings or My Firm
From: Pick a Date Range
Locations: All locations or select specific court locations
Status: We suggest filtering out by Accepted and Receipted.
Note: Drafts started on a day in the selected time range that then went on to be submitted will show on the report for the day the draft was started. The date submitted and accepted will be reflected correctly.
4.) Download Report. The report will open as an Excel Spreadsheet.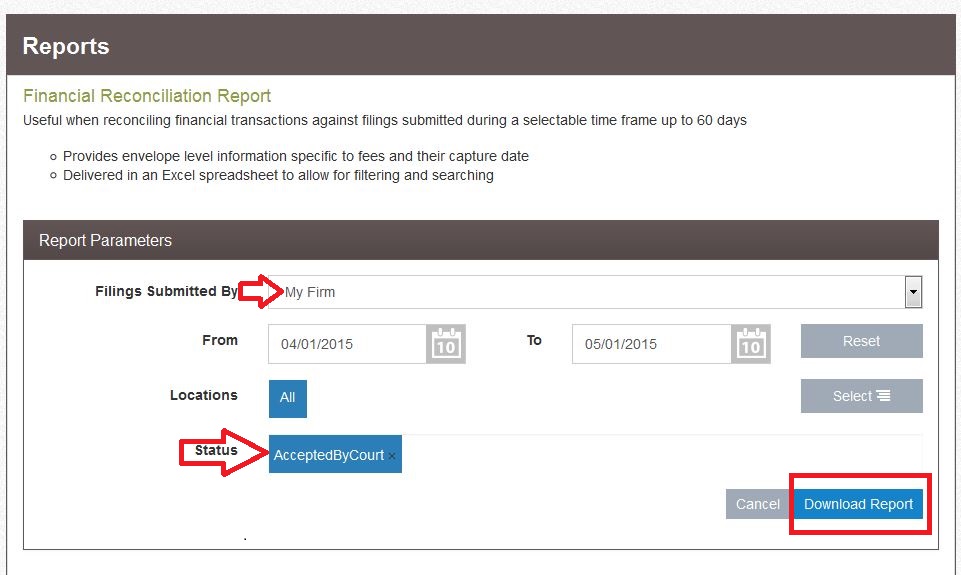 If a charge on your statement does not match the report, it is possible that a person in your firm/agency is using the same credit card or bank account in a different eFile account. Have your firm admin sign into the website, click the Orange Actions and look at the list of Firm Users and see if any users are missing.